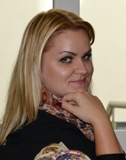 Mgr. Ľubomíra WILŠINSKÁ, PhD. (1989)
Research Fellow
02/59209411
Ľubomíra Wilšinská specializes in Latin literary culture in the context of Byzantine-Slavic tradition in Slovakia. She mainly focuses on research of manuscript and printed texts of the 17th-19th centuries from the philological and cultural-historical point of view.
She graduated from the Faculty of Philosophy and Arts of Trnava University in the field of study Classical languages. In years 2013-2016, she was a doctoral student of Jan Stanislav Institute of Slavistics of SAS in the doctoral study program 2.1.28 Slavic languages and literatures. During her doctoral studies, she focused on the interpretation of the image of monastic life in Latin work Imago vitae monasticae (Cassoviae, 1802) by Juraj Joannikij Bazilovič, Provincial Superior of Mukachevo Basilian monastery taking into account philological and cultural-historical analysis. In 2016, she successfully defended doctoral dissertation Byzantine-Slavic tradition and culture – continuity and discontinuity – Juraj Joannikij Bazilovič: The Image of monastic life.
Bibliography is available in Slovak version.