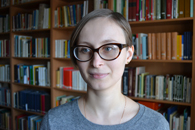 Mgr. Svetlana ŠAŠERINA, PhD. (1987)
Senior Research Fellow
02/59209422
Svetlana Šašerina within the research project Interdisciplinary and confrontational research of language, folk, literary and material culture and history of the settlements in the area of Slovak-Polish, Slovak-Ruthenian-Ukrainian, Slovak-South Slavic and Slovak-German contacts deals with the research of the relations of a language and a spiritual culture between the Slavic East and West taking account to Slovak-East Slavic language and cultural contacts (the Cyrillic texts analysis of the linguistic, ethnolinguistic and historical perspective based on the history and comparation).
Researching this project, Svetlana Šašerina successfully defended her doctoral thesis Spiritual Culture between East and West. As exemplified in Uglian Manuscripts.
Bibliography is available in Slovak version.