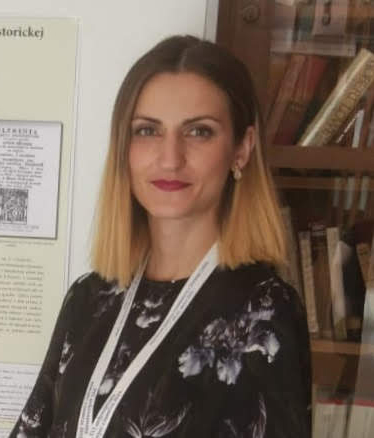 Mgr. Mária STRÝČKOVÁ, PhD. (1987)
Research Fellow
02/59209422
Mária Strýčková dedicates her research mainly to the comparison and analysis of terminology in Latin and Church Slavic parallel texts.
She graduated from the Faculty of Philosophy and Arts of Trnava University in the field of study Classical languages. During her doctoral studies, she focused on Neo-Latin literature of Greek Catholic milieu in our territory as well as in the historical Eparchy of Mukachevo. In years 2014 – 2017, she was an internal doctoral student of Jan Stanislav Institute of Slavistics of SAS in the doctoral study programme 2.1.28 Slavic languages and literatures in cooperation with the Faculty of Arts of the Constantine the Philosopher University in Nitra. Within research tasks of doctoral studies, she defended her doctoral dissertation Byzantine-Slavic tradition and culture – continuity and discontinuity: Glossary of the Church Slavic-Latin interpretation of liturgies of the Church of the Byzantine rite in Slovakia. In her dissertation she examined the application of liturgical terminology in the work Explicatio Sacrae Liturgiae Novae Legis veri Incruenti Sacrificii, Latin and Church Slavic parallel text of the interpretation of the liturgy written by Juraj Joannikij Bazilovič.
Bibliography is available in Slovak version.