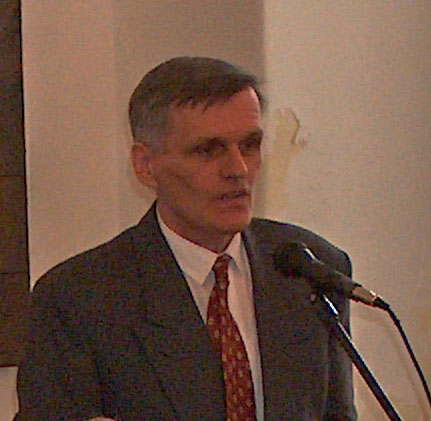 Mgr. art. Ladislav KAČIC, PhD. (1951)
Senior Research Fellow
02/59209414
Ladislav Kačic´s principal field of research is Slovak culture in 17th-18th century, especially the culture of religious orders (Franciscans, Jesuits, Piarists) from the interdisciplinary perspective (musical, linguistic, literary).
L. Kačic is a leader of grant project Musical and Literary Contexts of Slovak Baroque. Under his leadership five other grant projects supported by the grant agency VEGA have performed the planned purposes. As a participant has contributed to the successful fulfillment of many other projects.
Currently L. Kačic is a Board member of Slovak musicology Association, member of the Presidium Johann-Joseph-Fux-Gesellschaft settled in Graz and member of Internationale Arbeitsgemeinschaft für Hymnologie. L. Kačic is a tutor of doctoral students at the Musical and Dance Faculty of Academy of Performing Arts in Bratislava. He leads lectures of History of Slovak Music and History of European Music (specializing in Medieval, Renaissance and Baroque music), seminars and master's theses of music theory. He is a successful organizer of several international scientific conferences and an editor of miscellany of studies.
L. Kačic has been working in Jan Stanislav Institute SAS since April 1, 1997. In 1998, he defended his PhD thesis The Music of Religious Orders in Slovakia in 16th-18th century.
Awards
Honorable plaque of Ľudovít Štúr (2011) awarded by the Presidium of SAS
Fra Angelico Award (2010) awarded by the Conference of Slovak Bishops – for a long-term music research of religious orders in Slovakia. (Performing on TV Lux, February 19, 2009 on the show "Doma v kultúre", in the discussion on the occasion of awarding the Fra Angelico Award.
Jozef Kresánek Award (1990) awarded by the Music Fund Slovakia for extraordinary contribution to the research of Baroque Music in Slovakia.
Bibliography is available in Slovak version.